Staff
Mel Siggelkow - Executive Director

In 2007 Mel began Rising Above as a ministry through the Church he was pastoring in Grande Prairie, Alberta. This ministry grew quickly, and after 20 years of pastoral ministry Mel realized that his passion for helping people "break cycles of defeat" was pulling him more towards the ministry of Rising Above. Mel transitioned out of the Church leadership role to devote his energy towards Rising Above. Mel says, "seeing people break free from destructive patterns is the most rewarding and fulfilling work I have ever been involved with." Mel enjoys opportunities to share about Rising Above with various groups and speaking at different churches.
Mel and his wife Liz have been married for over 30 years and have raised three amazing kids who are now young adults. They are thrilled to see the hearts of compassion and outreach in each of their children.
Both Mel and Liz were raised in strong Christian families and were modeled a lifestyle of compassion. Those seeds have grown and the passion to help people is what keeps them so engaged with a ministry like Rising Above.
Lynne Van der Raadt - Residential Treatment Manager

Lynne comes to Rising Above with a heart for people in vulnerable situations. She has a variety of experience which will aid her in working with the participants. She brings passion and kindness to the people of our program. We are very pleased to have Lynne on our team.
Lynne says: "For the last year I have been praying God would lead me to where I could make a difference in peoples lives. I am so happy that this is where he wants me to be, and my prayer is that I can serve where he directs."
Lynne is married to Mark, and they are blessed to have our 3 sons living nearby by and enjoy spending time with each of their families.
Kim Peters - inner healing/ Case Management
Kim started working at Rising Above in August 2012. She worked in Administration for three years and then moved into a Case Management Role.
Kim married her husband Carey in May of 2015. Together in their blended family they have 3 children, and both have strong hearts to serve Jesus in the lives of vulnerable people.
Kim says, "I knew I wanted to find a career with purpose, and this is where God has led me. I love coming to work each day and seeing the smiles on the participant's faces, even though they are facing great challenges in their lives. We all have things to learn and ways to grow, and being a part of Rising Above is truly a blessing in my life!"
Rita Reimer - Case Manager

Rita started as a volunteer mentor with Rising Above in 2016. Gradually the role turned into taking on some case management. When a position on staff became open she was very ready to move into a more formal role.
Her experience in being a pastor's wife for 15 years and a passion for helping others gives her the experience and desire to continue in ministering to the participants of Rising Above.
She is married to Lowell Reimer and has 3 grown sons living in Grande Prairie.
RHONDA sHORT - Administration and finance

Rhonda Short is our Finance/Administrator at Rising Above. Rhonda, her husband Darren and two children, moved to the beautiful Grande Prairie area in 2005. Rhonda's education includes administration and business. She has also completed her first-year bible school training with Victory Bible Training Center in Grande Prairie.
Rhonda comes from a background that allows her to understand and have compassion for those who struggle with addictions. She feels that working here at Rising Above was God's gift to her so she could do more of what she loves.... to serve, to love and help others.
Bill Schmidt - CASe Manager

Bill joined the team at Rising Above in November of 2015. Prior to that he had been working in management roles in various companies for the last 20 years.
His role here at Rising Above is to teach the participants in our program job skills that help them integrate back into the workforce.
Bill has a certificate in Biblical studies and a diploma in Christian ministries.
Bill has been married to Jennifer for 10 years and has three amazing daughters Mia, Alyra, and Bethany. Bill says "I was asking God for a place where I could make a difference and help people for the last year, and when this opportunity came along I knew it was from God."
Irene Hamm - inner healing

Irene and her husband have lived in the Grande Prairie area for 37 years and along with their 5 children and 5 grandchildren, have made many memories in this city. Her family brings her much joy! Irene has been richly blessed in her travels to an orphanage in Kenya for the past 9 years, in hosting many groups at their second home in Victoria and also being involved in her local church.
She has always had a heart to come alongside others and her greatest delight is to connect others to Jesus for healing and restoration. God has performed miracles in her own heart and she has witnessed many God miracles in others' lives as they choose to trust in Him. Irene is thankful to be part of the great team of Rising Above since November, 2014. It is the best job in the whole world!
bruce cook - inner healing/case management

Bruce joined the Staff at Rising Above in May of 2017. Prior to arriving here, Bruce served as a Pastor in the Christian and Missionary Alliance. He has also worked in the customer service field for over 25 years. Bruce began his journey at Rising Above by volunteering in Case Management and Inner Healing and quickly found that it was the right fit for him and how God has gifted him. It became apparent very quickly that God was leading him to serve in this most important ministry.
One of Bruce's greatest passions is to see people have an encounter with Jesus that leads to healing and wholeness, which results in peace and joy. Having experienced a great amount of inner healing in his own life he understands how valuable that this would be in the lives of the people he works with.
Bruce has a Master of Arts in Leadership and Ministry. He is married to Diane and they have 3 amazing daughters and six wonderful grandchildren. They look forward to any opportunity they can have to spend time with them.
Amanda Guay - Inner Healing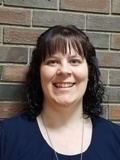 Amanda Guay is the newest member of the staff here at Rising Above. Amanda is excited and blessed to be back at Rising Above. Her journey with Rising Above started as a board member of the church but then stepped out in faith with Mel's leadership and began this wonderful ministry. She was on staff for a number of years and then took some time off to raise her daughter.
Amanda is married to Conrad and has a wonderful daughter. Amanda is passionate about supporting people in their journey to find freedom and healing. Her heart is to see people thrive in the life God has designed for them. Amanda is looking forward to what God has in store for her and her family in the years to come.